Log Level Data Service
MediaMath's Log-level Data Service (Logs Service) enables advertisers to access the raw, event-level data generated through the TerminalOne platform in a tool-agnostic way. By leveraging cloud resources such as Amazon Web Services, clients can build value-added analytics services on top of MediaMath data with a minimum of developer time, money or hassle.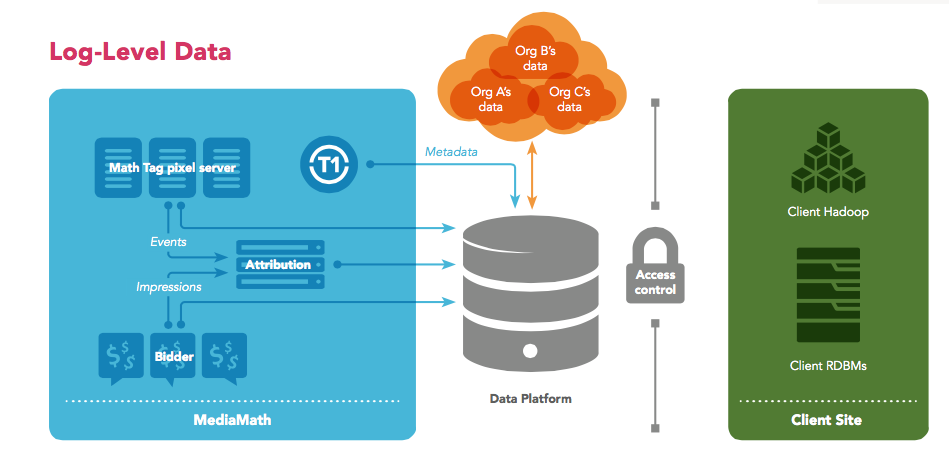 As campaigns and strategies created within TerminalOne bid and win, logs are written recording the dimensions and metrics of each individual impression. In addition, TerminalOne's pixel servers log every event that is generated on an advertiser's site (such as a page load, interaction or purchase). These log files are collected into a central processing system where attribution is run.
At the end of this process, raw log files are made available for access using the Logs Service, which collects the different log types and stores each organization's data into a separate buckets using Amazon S3.
The following data sets are made available as part of Logs Service:
Impressions – Impressions served by the T1 bidder
Events – Event pixel fires from advertiser sites
Attributed Events – Clicks and conversions based on campaign merit events
Each event type is stored in a corresponding S3 bucket and secured using the AWS IAM security access framework.
Benefits of Logs Service
Decreased latency Logs Service is updated 3 times per day with the latest data.
Richer data sets Data stored in the Logs Service includes an assortment of additional metadata such as campaign metadata, geo information and the full set of Brain variables necessary to use BYOA.
On-demand feed You don't need to wait for MediaMath to setup a new feed if you need historical data. 365 days worth of data is available for you to put your data to work in seconds instead of days.
More historical data Logs Service stores 365 days worth of data. There is no longer any need for you to manage or provision storage.
Turn-key setup
If you work with partners data or attribution partners, they can be granted access to your data with a few simple steps. No more FTP server setup, credential management, long setup times or QA processes. Your data can be made available to partners or clients on-demand within minutes.
Choice of tools: Access TB's of your data using open source Hadoop or off the shelf tools such as Amazon Red Shift or EMR, or Qubole's interactive SQL.
Developer documentation and support Logs Service comes with a suite of developer-focused documentation, technical FAQs and example code to get you up and running in no time.
Pricing
Please contact your account representative for more details on pricing and participation.
Getting Started
To get started with Logs Service, please send an email to your account representative or MediaMath Support) with the following information:
Be sure to mention "Log Level Service Setup"
Technical contact name and email
12-digit AWS account ID
List of MediaMath organization names and IDs to enable
MediaMath will validate eligibility and send you further instructions.